Bedroom Furniture
Create a beautiful bedroom scheme that will suit your style and space with this selection of the latest designs. Our bedroom furniture is organised into collections which can be collated or mix and matched, allowing you to find your recipe for success.
Although blending a modern home with natural wood elements can be challenging, our pieces achieve an elegant balance. Many of our products are made from reclaimed pine which is sustainably sourced. The full bedroom furniture collection also includes painted, contemporary, traditional and shaker-style units. For excellent bedroom ideas and bedroom designs, browse our bedroom furniture sets.
Bedroom Furniture Ideas
We offer several stylish bed and bedside table combos. Our bed frames feature a range of designs, with headboards and footboards available. The bed frames can be single size, double size, king size or super king size. They feature sturdy wooden struts offering a supportive base.
The wood panels, many made from reclaimed pine, are either slim brush painted, or coated in a clear lacquer. The lacquer style benefits from the natural rings and knots of the wood, providing a relaxed look and feel. Each piece is hand-made and individual, showing stunning delicate craftsmanship and carpentry.
The bed and bedside table combos help homeowners form a complete bedroom furniture solution. The bedside tables range in size and styles, with a comfortable touch and finish. The drawers are either engineered with recess handholds or have metallic handles in various finishes. Select a discreet or eye-catching style depending on your preference.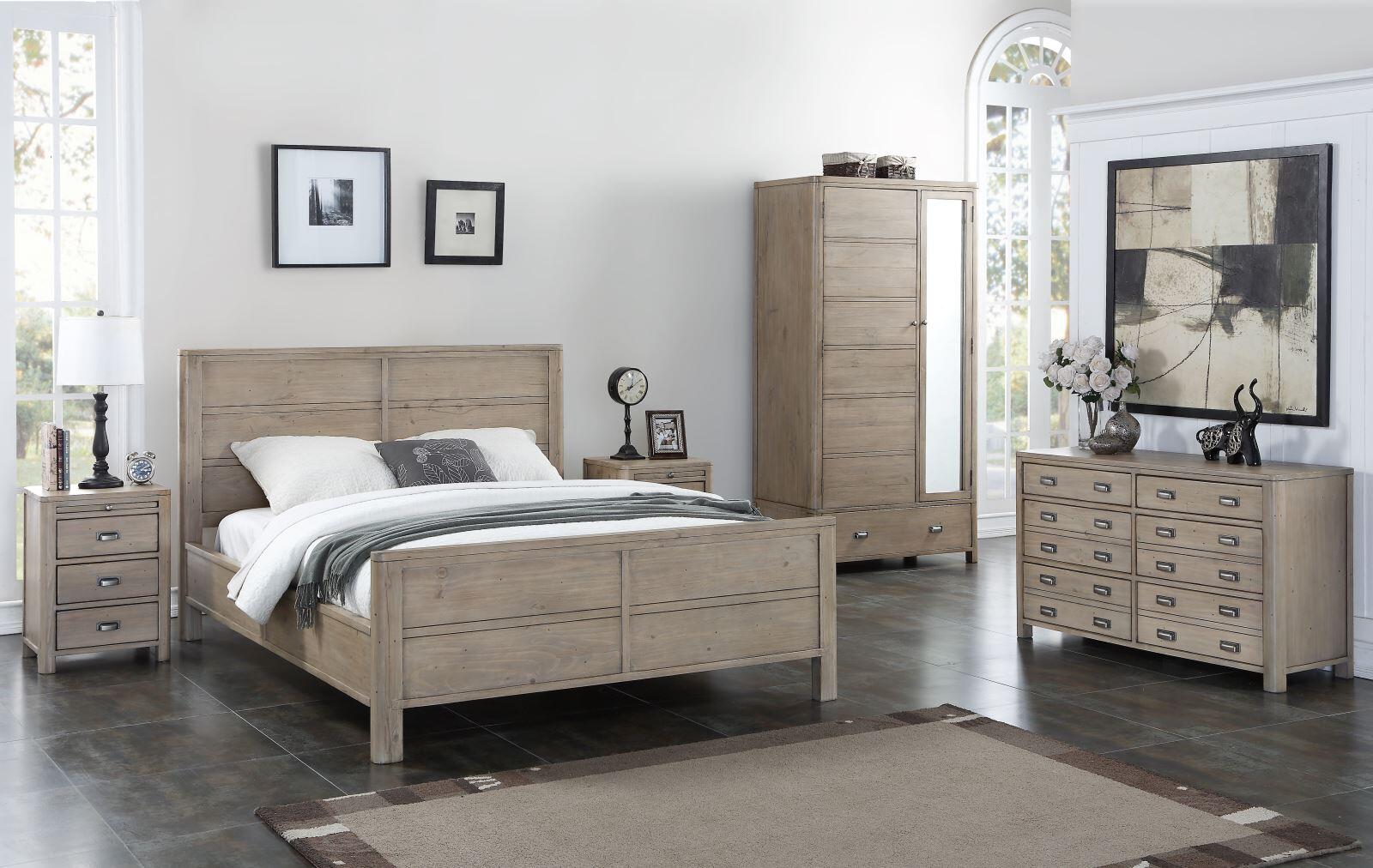 For more ideas on how your bedroom could look, see our Inspiration section. Here you'll find varying design ideas and bedroom fit-outs, helping you find your perfect style.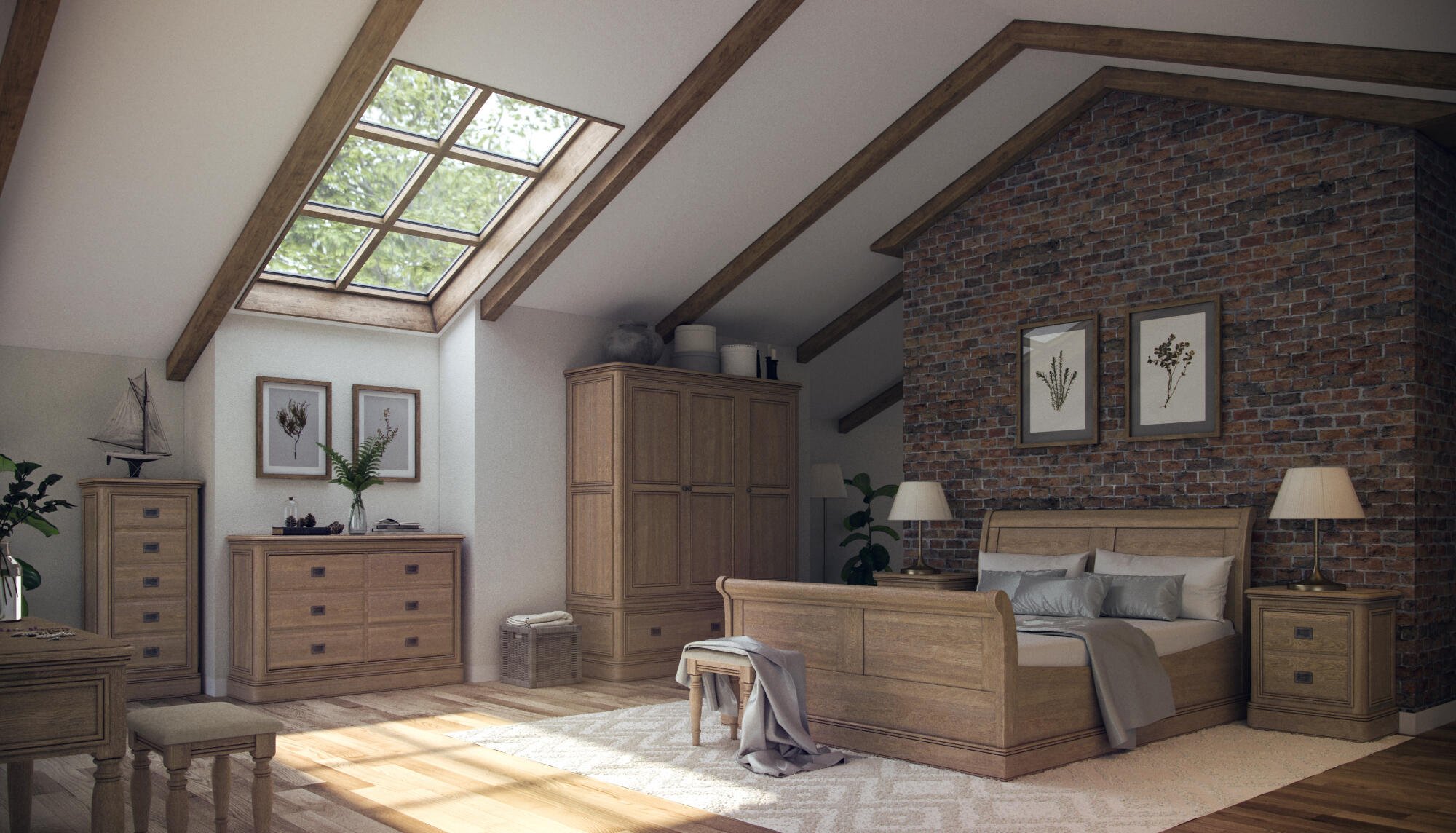 Bed Furniture Set
Both unique designer ideas and more mainstream styles are available at Home Furniture UK. Each product has optional related pieces from its family set. Such as the Brooklyn Loft set which includes various beds, cabinets and wardrobes. Select your sizes and instantly own a bedroom suite. Bed furniture sets display new eclectic designs or familiar traditional concepts, helping you find the perfect home solution.
Home Furniture UK bed furniture sets include blanket boxes, wardrobes, drawer storage and dressing tables. The dressing tables vary in design with both wooden and metallic legs available. They feature corresponding dressing table mirrors and bedroom stools or bedroom chairs, great for creating a bedroom furniture set.
Our wardrobes offer exceptional space, with hanging options and lots of storage. Some models feature mechanisms stopping the shelves from being pulled out accidentally. With the bed and bedside table combo, the wardrobes are designed in line with the same bedroom furniture idea. Combine and create a set which elevates your home bedroom aesthetic.
Bedroom Furniture UK
With Nordic, urban loft and traditionalist design ideas, the bedroom sets from Home Furniture UK can be mix and matched or bought as a collection. We have plenty of bedroom storage options which can be chosen to suit any space. We deliver products to everywhere in the UK, packaged safely and swiftly.
An excellent centre piece to elevate your bedroom, no compromises should be made on this essential item. The best beds combine style and substance to enrich the look and feel of our bedrooms.
Call us on 01480 278222 for expert advice or view our furniture collections to find your preferred suite style.
Related articles
Oct 18
With festivities looming and dark weather resuming, the only reprieve is to conceive a home fit for a guest. Read tips and tricks and our top picks for an excellent depiction (on a budget-restriction) of a home looking its best. ...