Brooklyn Loft Furniture Collection
Features
| | |
| --- | --- |
| Urban modern design | Round characteristic metal handles |
| Eco-friendly reclaimed pine wood | Natural detailing from the wood panels |
| Free delivery to the UK | Multi-tonal colours for eclectic styling |
Description
Brooklyn loft furniture is an eclectic urban collection originating from the New York Loft style. The colourful front panels and style of drawers and bedroom furniture offer a rustic feel. Yet, the waxed finish and bespoke metal handles keep the collection chic and on trend.
The Brooklyn loft collection features multi-coloured front panels and round metal handles. The Brooklyn loft home furniture collection includes chests, cabinets, wardrobes and beds. All are made from reclaimed pine wood for that excellent natural look and feel.
Brooklyn Loft Style Furniture
This range epitomises the old-fashioned rustic style mixed with recycled wood and industrial influences. These nostalgic elements combine to create an interesting and eye-catching piece, able to blend with modern furnishings. With sleek lines and its fashionable bucolic aspects, the Brooklyn range is ideal for giving a home a sense of character.
New York style furniture design involves simplistic, functional pieces of solid wood with rough architectural influences. They blend the urban and rustic to create a versatile living space suited to high-rise loft apartments. The rough-and-ready Big Apple motif is apparent in the Brooklyn furniture collection's identity. Too much is never enough, and this assortment of chests, wardrobes and bed frames has it all.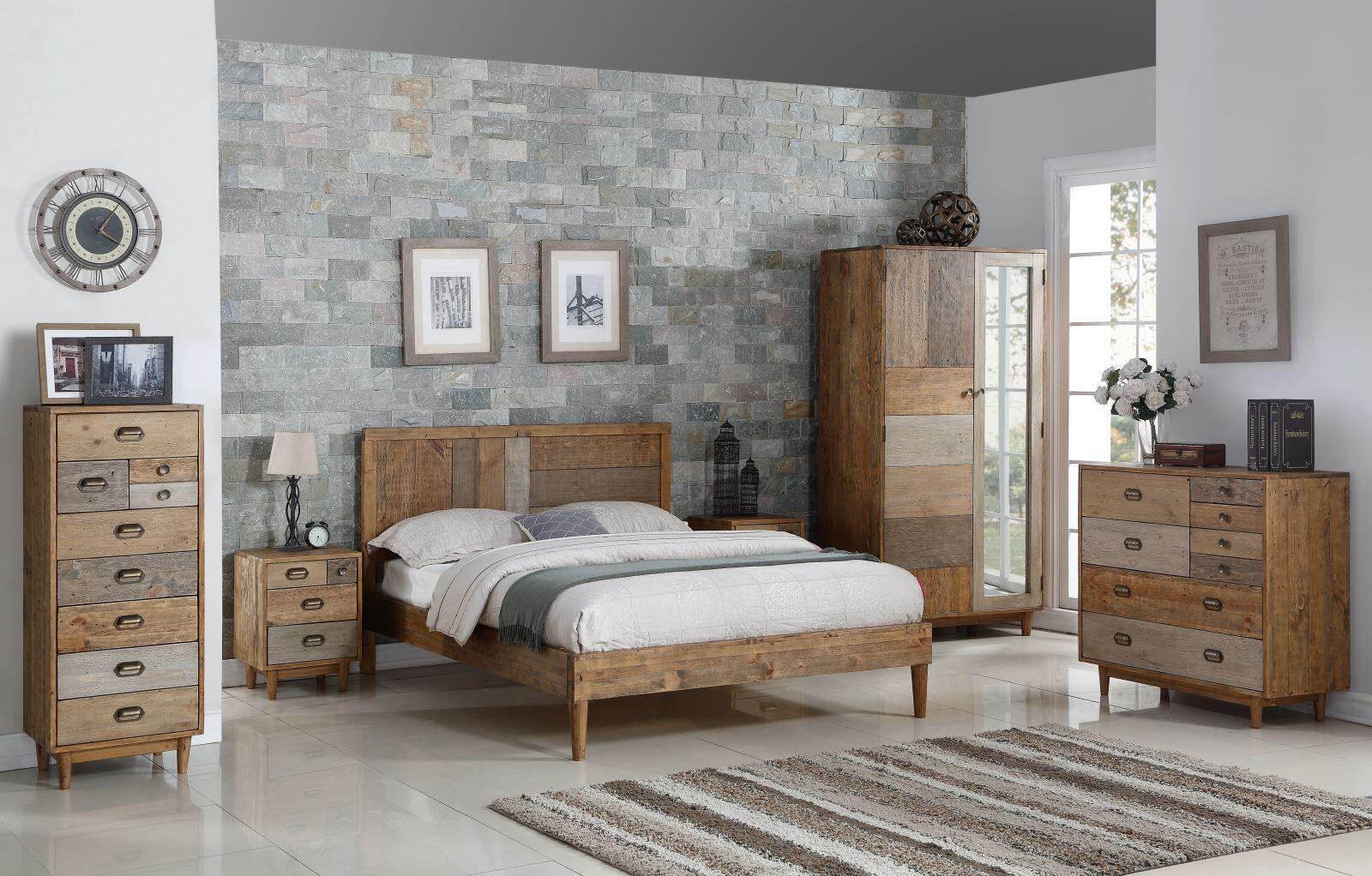 Brooklyn Loft Bedroom Furniture
The beds available include double and king size frames. The bedstead has a headboard and sturdy feet. The bed side table is able to match with a choice of either angled feet or a plinth base. This choice is also available for the varying sized drawer chests. The chests offer plenty of space with a mechanism which prevents the drawers being pulled all the way out. The wellington chest and double wardrobe are bespoke options, great as a centre-piece to elevate your bedroom. They have a full-length mirror and a range of storage options included. The hidden shelves are removable and multi-functional.
Brooklyn Loft Furniture UK
Ideal for versatile living in high rise apartments, or for changing up an old interior décor. The wonderful wood imperfections in the knotty natural grains of each piece ensures all products are new and unique. Implementing Brooklyn loft home furniture is the best way of creating a quirky interesting home aesthetic. Made to last with excellent durability and carpentry, Brooklyn loft reclaimed pine furniture is easy to mix and match as per requirements.
Home Furniture UK offer a delivery service direct to your door. The products are wrapped in protective recyclable packaging. Delivery available to everywhere in the UK.
Purchase at checkout or call us on 01480 278550 for expert advice on all products in the Brooklyn Loft line.