Burghley Furniture Collection
Features
| | |
| --- | --- |
| Inspired by Elizabethan and modern furniture | Round characteristic metal handles |
| White, Grey or Cream finish | Natural detailing from the wood panels |
| Free delivery to the UK | Wide range of bed frame sizes |
Description
Beautiful, elegant, fit for a queen. Burghley house furniture takes inspiration from both Elizabethan and modern design to form a graceful collection. The grandeur of the wood material and exquisite carpentry results in a timeless home aesthetic.
The beds, wardrobes, storage units and chairs are available in different paint options – Cream, Grey and White. The beds are frame only. The chairs are priced separately and sold in pairs. Breath-taking and eye-catching, its impossible to ignore the look and feel of Burghley home furniture.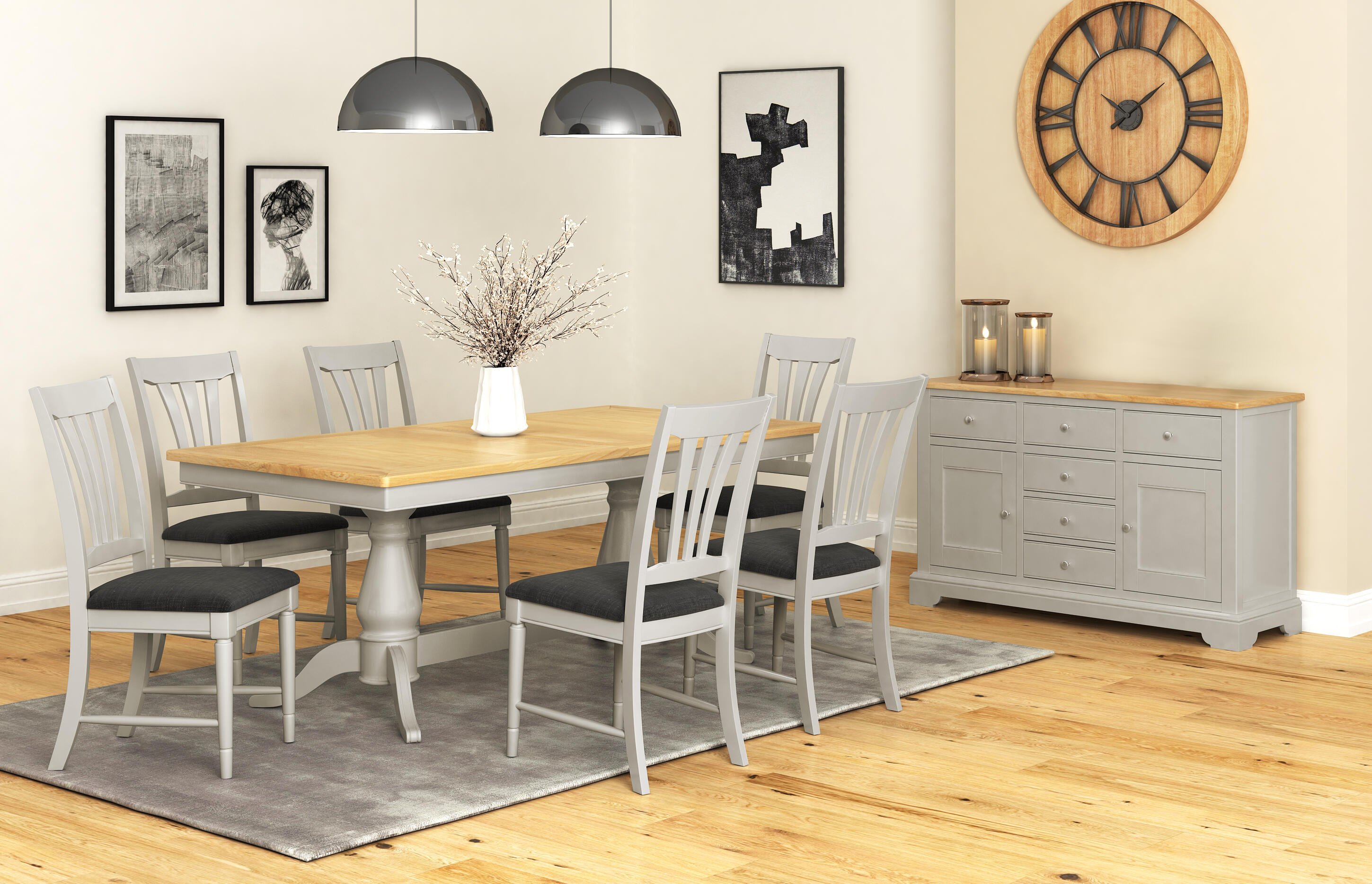 Burghley Wood Furniture
The excellent craftsmanship uses traditional joinery techniques to create robust and durable pieces. A simplistic yet stylish look is elevated by the natural knots of the oak wood, which can be seen within the drawers. Most of the furniture is coated in a pale paint, offering a stain and scratch resistant quality. Bronze and silver rounded handles match the colour perfectly, promoting a feeling of grandeur. Dovetail joints and butt hinges ensure a consistent quality throughout the range.
Burghley Bedroom Furniture
Burghley Bedroom Furniture involves a range of drawers and wardrobes which vary in size. The Burghley chest of drawers offer exquisite detail with contoured elements throughout. The drawers are made to fit and easily slidable. The wardrobes also have increased storage sections, with a full hanging wardrobe section. They offer exceptional depth and space and are a great bedroom feature to elevate the aesthetic.
Chairs, dressing tables, dressing mirrors, and bedside tables are also available. Each have a choice of Cream, Grey or White finish. The Burghley bedroom chair has an attached felt cushion and a stunning cross back design. The dresser and dressing mirror are a matching collection, versatile and useful. For a bespoke bedroom collection, the Burghley is ideal.
Burghley Beds
Our Burghley beds are each bespoke and unique. They feature either a headboard or a headboard and footboard combination. Available are single size, double size, king size, and super king size beds. They are secured with wooden unpainted struts which provide a firm and supportive base. The timeless charm of the beds act as an excellent long-term centre-piece for the bedroom.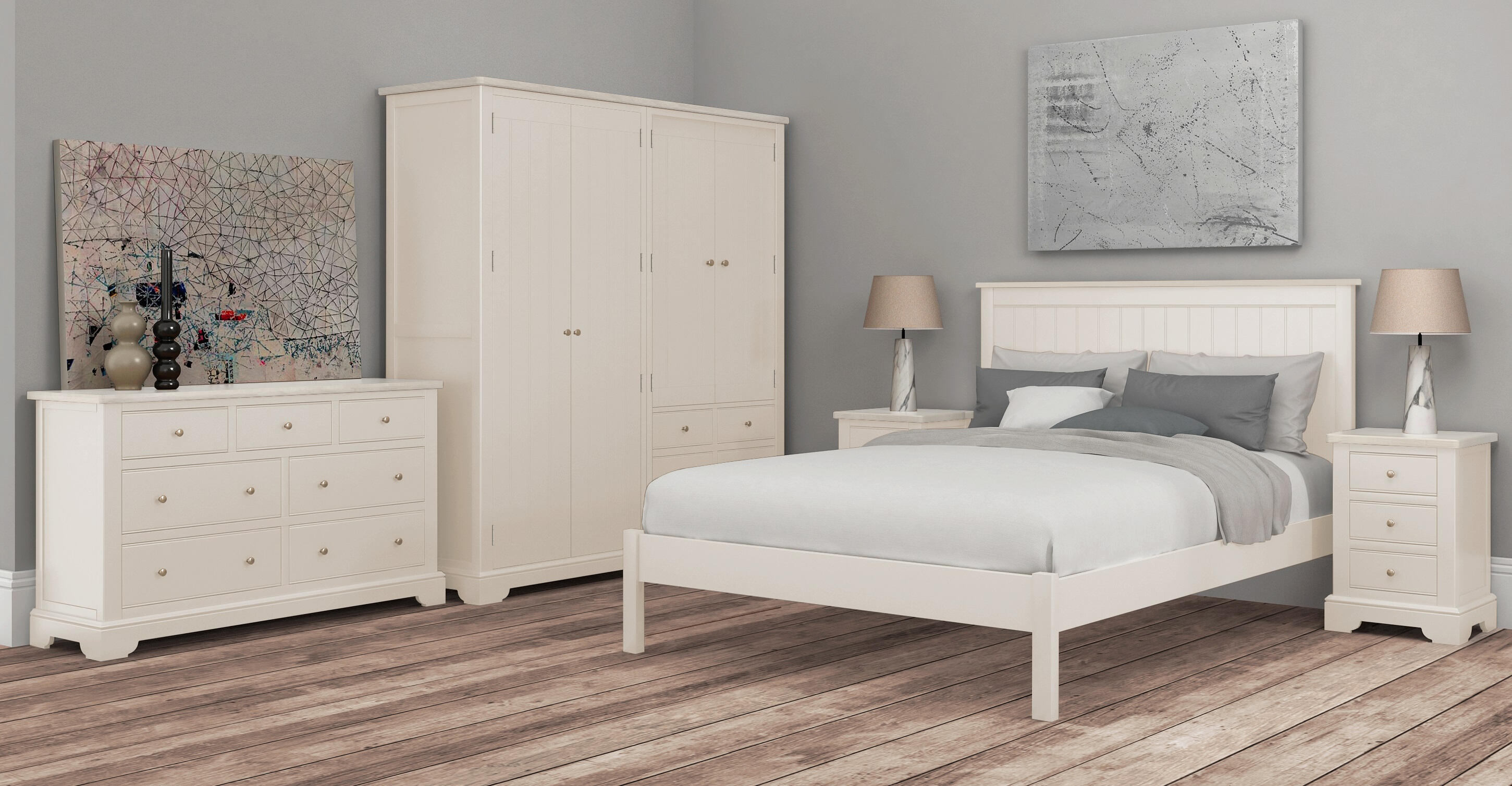 Burghley Home Furniture UK
When creating a timeless collection of comfortable furnishings, Burghley furniture is found diamond. The wonderful wood with its painted finish ensures each product is attractive and fits into the room design. Burghley home furniture is a super way of creating a classically inspired home.
Home Furniture UK offer a delivery service direct to your door. The products are wrapped in protective recyclable packaging. Delivery available to everywhere in the UK.
Purchase at checkout or call us on 01480 278550 for expert advice on all products in Burghley line.