Houston Furniture Collection
Features
| | |
| --- | --- |
| Stylish minimalist modern design | Discreet linear metal handles |
| Unique natural effect for each piece | Exquisite detailed carpentry |
| Free delivery to the UK | Soft and relaxed look and feel |
Description
Style and sophistication, the Houston collection is an excellent foundation for homely living. It boasts of a classic wooden finish with a unique crafted design that is both timeless and modern. For that classic detail in your living room space, you can't go wrong with the Houston.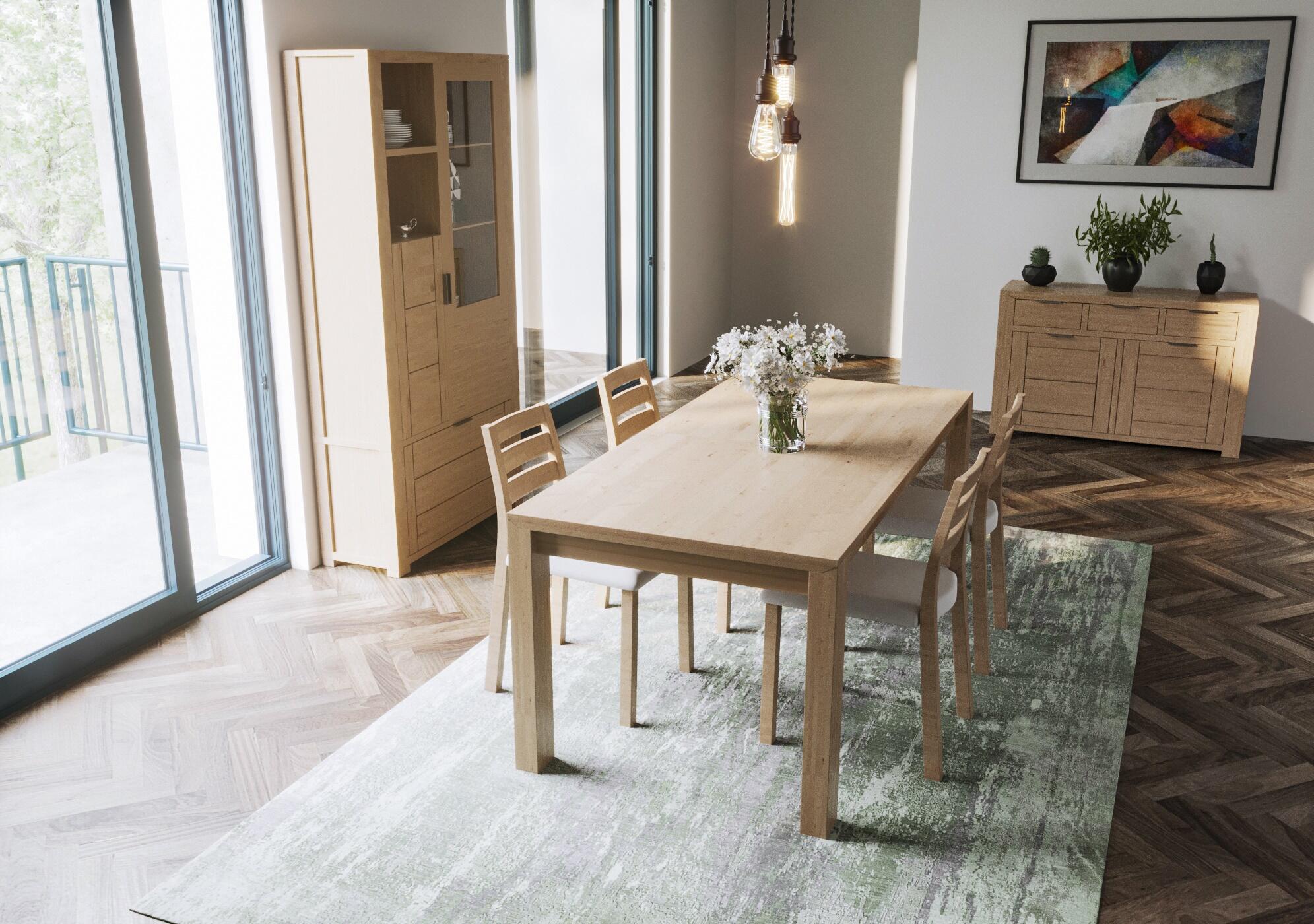 Houston Home Furniture
TV cabinets, display cabinets, nest of tables, and sideboards are all available in the Houston range. The tables are available in different sizes, fulfilling the needs of any modern living room. Coffee tables include drawers and a storage panel. The tops are protected by its lacquered finish; this ensures the tables keep a smooth and durable frame.
The wood panels are from reclaimed resources and crafted through excellent carpentry. The Houston furniture range is responsible and ethical, each piece hand-made with effort and care. The oak finish will never go out of fashion and benefits for colourful adornments or wallpaper. The whole range has delicate edging and curved angles, complimenting the comforting effect.
Houston Bedroom Furniture
The Houston bedroom collection offers beautiful classic style for a budget-friendly price. The Houston bed comes as either a double or king-sized. It is easy to assemble with solid durable wood panels for a comfortable result. A wise furniture investment, a Houston bedroom will never go out of fashion.
Cabinets and wardrobes are beautifully crafted and marry the whole collection. They have spacious storage sections and slide out drawers. The handles are discreet, and the blend of metal and wood helps the furniture adapt to its surroundings. For a neutral yet natural bedroom furnishings, the Houston is an ideal choice.
Houston Home Furniture Ideas
Implementing Houston house furniture is the best way of creating a home with a classic focal point. Its minimalism lends itself to primary colours, allowing for a vibrant yet comfortable living space. Give a home a new look or make an excellent feature room by investing in Houston.
It's the Houston small details which rise it above the competition. The TV units have cable managements properties; the drawers and dressers have skilful carved edging and a preventative sliding mechanism to stop the drawers from being accidentally pulled all the way out; the chair has a felt cushion which is securely attached. These well-designed products help Houston be considered the best home furniture set.
Home Furniture UK offer a delivery service direct to your door. The products are wrapped in protective recyclable packaging. Delivery available to everywhere in the UK.
Purchase at checkout or call us on 01480 278550 for expert advice on all products in the Houston line.