Kobe Furniture Collection
Features
| | |
| --- | --- |
| Scandinavian style dining room collection | Unique natural oak wood tone |
| Durable satin lacquered finish | Silver metallic handles on cupboards |
| Free delivery to the UK | Range of table sizes and shapes |
Description
Epitome of classic design, the Kobe home furniture range offers a peak dining room setting. Equip you home with the latest comforts while keeping the environment familiar, warm and cosy. The woodwork and carpentry is second to none, using a satin lacquered finish for an elegant look and feel. Select the products you need for a full kit-out of your dining room or fill in missing areas around the house.
Natural Wood Furniture
Using genuine Nordic oak, each item is made with care. The knots and tides of the original wood panels gives each product a unique styling. The wood is coated with a lacquer finish; using a dry solvent to produce a hard, durable finish. Stain and scratch resistant, the Scandinavian style furniture is suited to the bustle of daily life.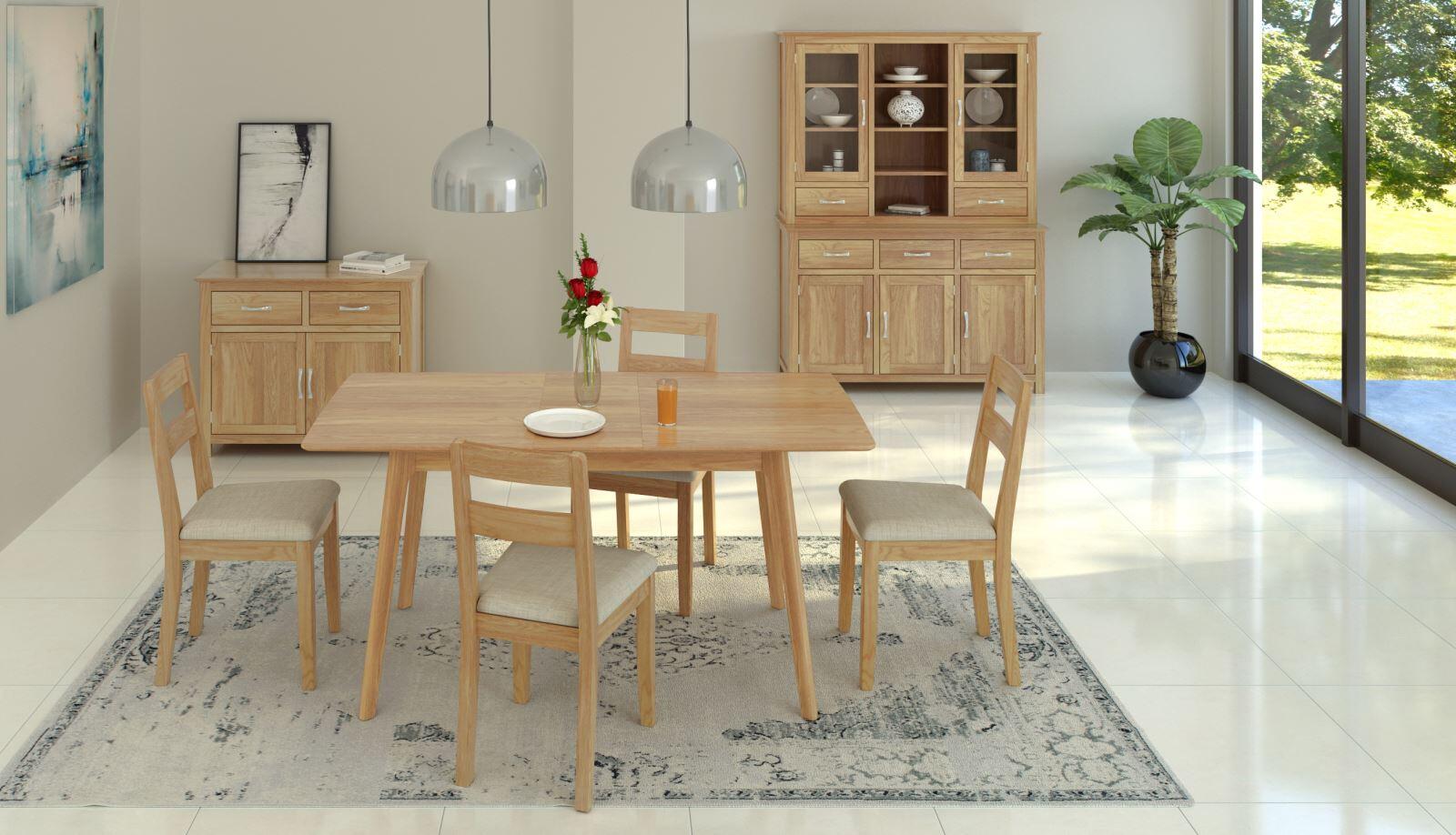 Kobe Living Room Table and Chair Collection
The Kobe collection includes wooden dining chairs and wooden dining tables of different sizes. The chair has been meticulously crafted to bring a warm and welcoming feel to the home. The felt cushion is fixed down and comfortable. Its slanted style is stable, attractive and easy to use.
The Kobe dining table vary in shape and size with a folding option available. The tables are practical and neat, offering plentiful leg room. Their minimalist design lends itself to other more decorative pieces. The unique tables will remain stable and useful throughout their long lifetime.
Kobe Home Furniture Collection
The Kobe collection also includes various sizes of bookcases, side tables and tv units. The tv units include storage areas and useful side panels. Doors have silver metallic handles and a carved edging. The bookcases include a number of shelves with secure wooden fittings. The side boards are generously sized with sanded down curved edges. Combine the benefits of both with a cupboard bookcase, versatile and user friendly.
Mix and match with glass display cabinets and glass door dresser tops for a relaxed and classic aesthetic. More quirky pieces include the CD towers and DVD towers, wine cabinet and nest of tables.
Kobe Home Furniture UK
All Kobe furniture includes free delivery through Home Furniture UK's five star reviewed service. Products are wrapped in protective recyclable packaging. Delivery available to everywhere in the UK.
Purchase at checkout or call us on 01480 278550 for expert advice on all products in the Kobe line.