Meribel Furniture Collection
Features
| | |
| --- | --- |
| Solid oak surface | Handsome metal legs |
| Smooth metallic handles on cupboard doors | A matching collection with variable sizes and storage units |
| Free delivery to the UK | A guaranteed durable and unique build with each item |
Description
Inspired by the industrial movement, Meribel furniture is a standout home collection. Its rustic oak design with oiled finish created a gorgeous familiar look and feel. Its neutral colours are an excellent foundation for your exotic ornaments. Burnished metal accents offer a sense of class, married with the natural wood detailing. All in all this collection is ideal for mix and matching where necessary, or for a full scale home kit-out.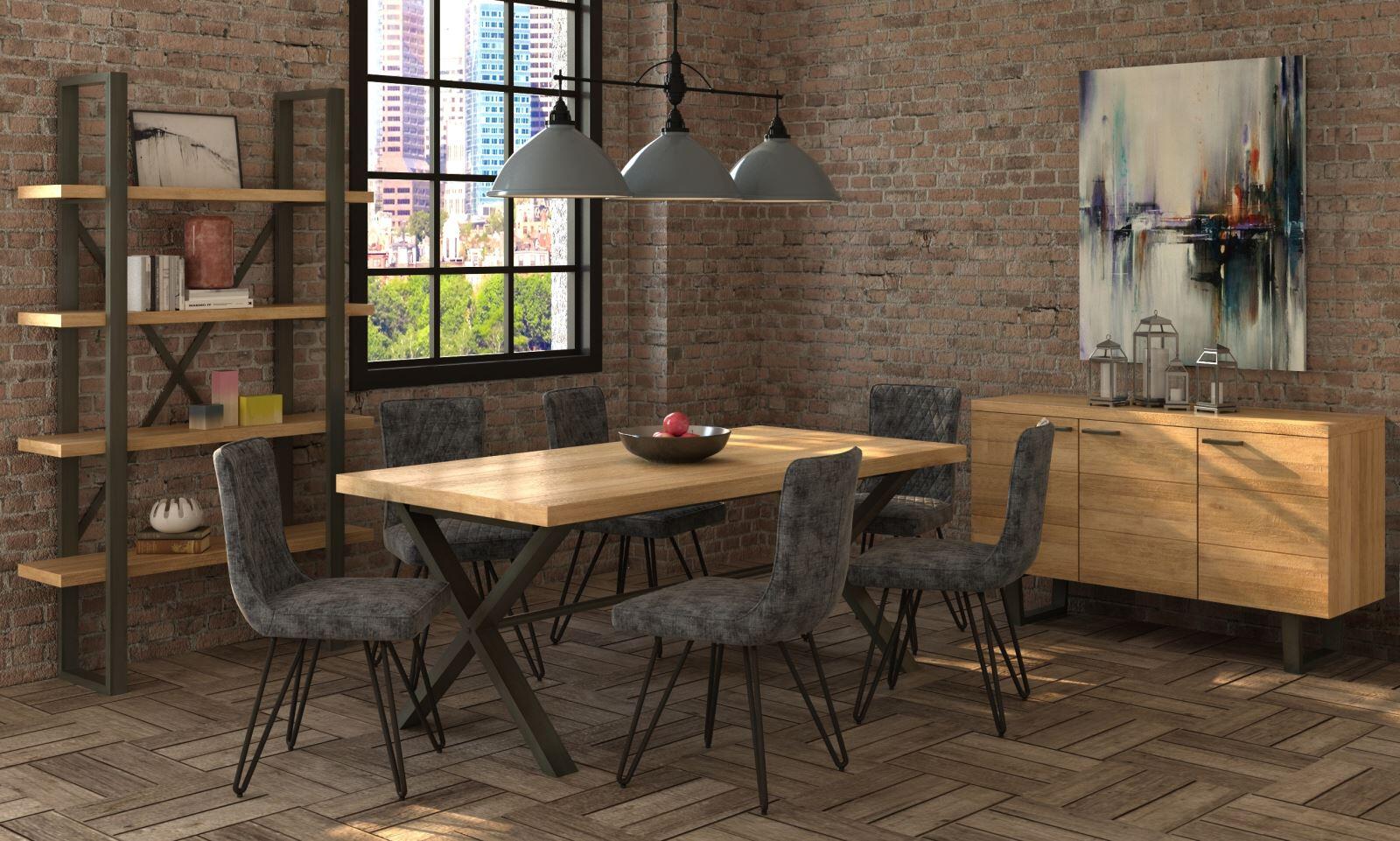 Meribel Home Furniture
The Meribel living room collection includes a tv unit with storage space and cable management features. The coffee tables are an excellent centre piece for any living room, the varnish helping with stain and scratch resistance. Lamp tables and cabinets are also available, increasing the versatility and applicability of the range.
The Meribel chair and tables are a well-manufactured attractive combination. Spanning 1400mm to 1900mm in length, the many tables are made to fit a wide array of interior spaces. It has an extension leaf as an optional add-on which increases the table's length. Durable and handsome in design, the tables offer a smooth look and feel. The chairs involve diamond stitched upholstery and artistic metal legs.
Meribel Bedroom Furniture
The extensive Meribel furniture collection includes both double and triple wardrobes. These pieces offer an exceptional amount of space and include a useful full-length mirror. The dressing table and dressing mirror offer an enhanced look, increasing the light and space of the room. There is a matching stool available with its black metal legs and plush black cushion. The neat and compact design of the stool makes it perfect for utility use around the bedroom.
The Meribel ottoman is a multi-functional item great for both storage and as a seating solution. It matches the stool and Meribel furniture collection with its oiled oak panels and detailed carpentry. The desk makes for an excellent workstation with plenty of leg space and room for storage, such as the bedside cabinet. Meribel bedroom furniture blends both classical and modern aesthetics for an excellent furnishing solution.
Meribel Furniture UK
Ideal for fashioning a timeless collection, Meribel furniture is a wise choice. The knotty imperfections in the natural material combined with the burnished metal legs, each piece evokes an interesting aesthetic. Made to last with great durability and stability, rustic oiled oak is sophisticated and attractive finish.
Home Furniture UK offer a delivery service direct to your door. The products are wrapped in protective recyclable packaging. Delivery available to everywhere in the UK.
Purchase at checkout or call us on 01480 278550 for expert advice on all products in Meribel line.