Moscow Furniture Collection
Features
| | |
| --- | --- |
| Beautiful bedroom collection | Unique pale wood tone |
| Made from reclaimed pine | Silver handles |
| Free delivery to the UK | Very spacious storage units |
Description
The Moscow collection is an imperious furniture range. Its made from reclaimed pine, an ethically responsible manufacturing process which produces a natural look and feel. A perfect bedroom solution, the Moscow collection can be used to kit-out any sized bedroom. The universal pale wood combines well with both modern and traditional home aesthetics.
Moscow Bedroom Furniture
The Moscow range is carefully designed to the last detail. The models are loving hand-made with each individual piece being different due to the tonal variations. Each item offers both character and class; its waxed smokey grey finish feels great and is a pleasure to use.
This bedroom collection is timeless with rounded off corners and a grooves along the top edge. The beautifully designed range is special due to the carpenter's attention to detail, perfecting the minor qualities. The metal handles are slightly tinted and kept uniform. The collection also features a dressing mirror, reflecting the bespoke Moscow style with its grooves and rounded edges. Universal and practical, the collection is user friendly and suits modern homes.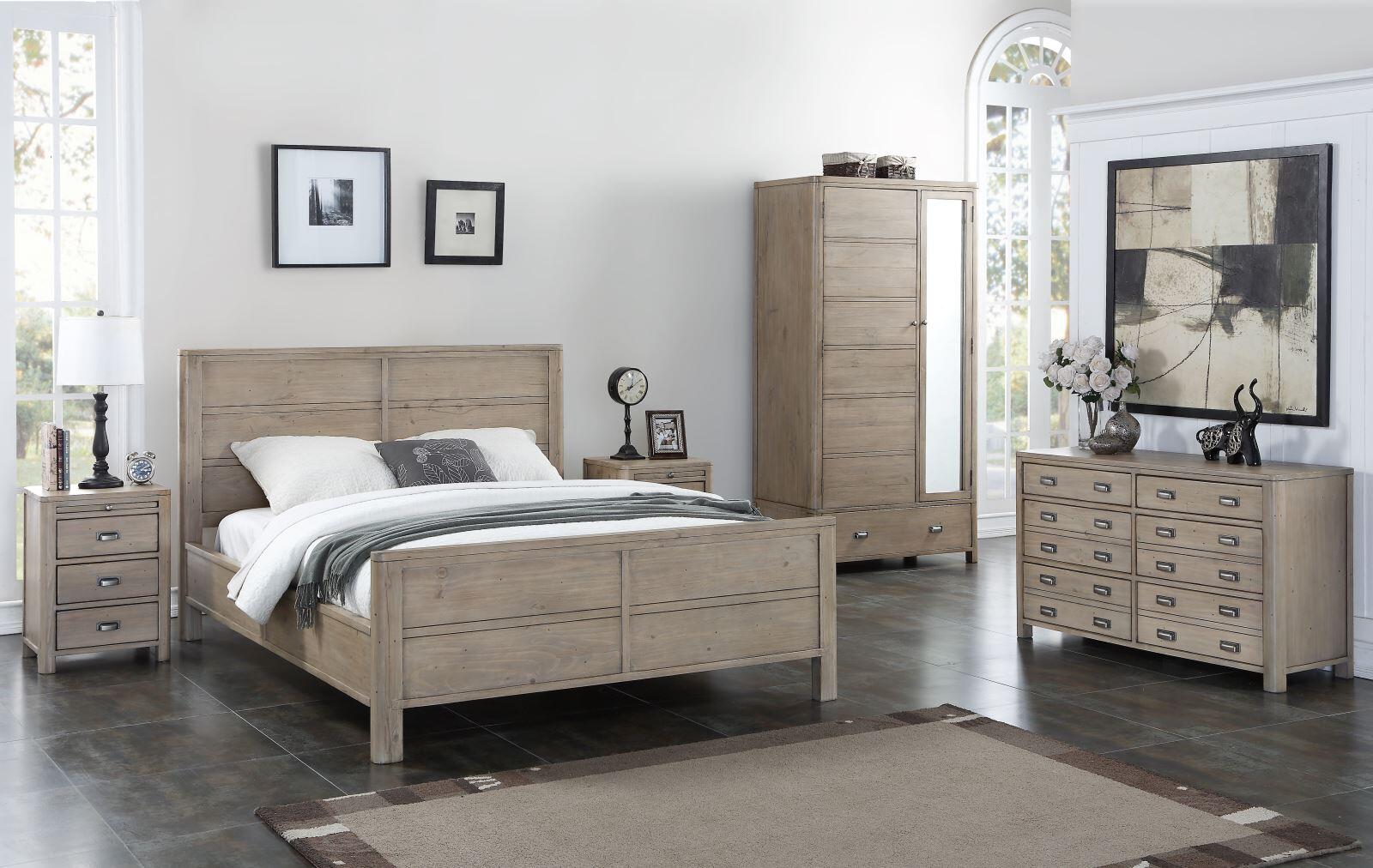 Recycled Home Furniture
The Moscow collection is made from reclaimed pine wood, offering both strength and durability. The best pine panels are selected using sustainable FSC timbers and cut down to size. The products are then built with time-honoured building methods. Dovetail joints increase strength and prevent pulling the drawers all the way out.
The classic style drawer handles have a pewter metal finish. A mix of old and new , the range aims to bring out the natural beauty of the wood. Sharing qualities with antique furniture, the Moscow collection can marry with more modern living, conservative in its use of space.
Moscow Bedroom Suites
A Moscow bedroom suite offer both style and substance. The large bed frames are available as either 4'6 double or 5'0 kingsize with headboards. Their soft tones and impressive structure will raise the profile of any home furniture collection. The durable underbed panels offer sublime support, ensuring a comfortable position over the product long lifetime.
Grey bedroom furniture ideas
The Moscow range also features a double wardrobe, stool and dresser. The double wardrobe boasts a modern aesthetic with traditional features, able to blend in with any home. The double doors offer plenty of spacious storage and the mirror improves the depth of the bedroom.
The Moscow stool looks stylish with a felt top cushion and rounded off edges on the legs. The dressing table features sliding drawers and plenty of leg room. Perfect for study or getting ready in the morning, the dresser also has available a matching mirror.
Home Furniture UK offer a delivery service direct to your door. The products are wrapped in protective recyclable packaging. Delivery available to everywhere in the UK.
Purchase at checkout or call us on 01480 278550 for expert advice on all products in the Moscow line.