Halloween at Home Ideas
October 23, 2019 Patrick
Get your home looking spookily good this Halloween. It's the perfect time to decorate and entertain guests with your Halloween home furniture.
Here are a few easy tricks to make your home a treat.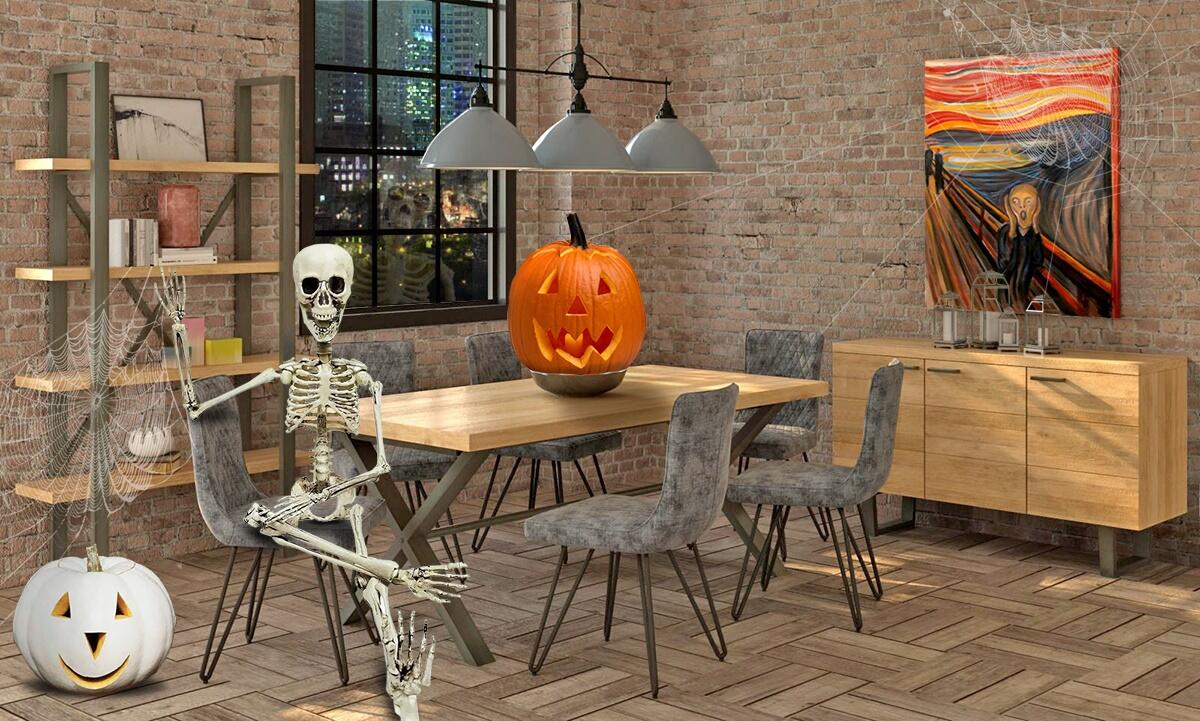 Pumpkins
Fun to carve and easy to display, pumpkins are a necessity. Give yourself time to get these ready and place around your home or front-door for a spooky welcome. White pumpkins, also referred to as ghost pumpkins, are a quickly becoming more popular. Whether you preferred the chic white or the traditional orange, pumpkins are an easy and attractive Halloween home décor ideas.
How to carve a pumpkin:
Cut off the top and scoop out the insides. (Save this as it can be eaten later)
Draw a simple outline of the face you'd like to carve. (Or be brave and try freehand it)
Start carving the pumpkin using a sharp knife. (Careful!) Go for direct straight lines for the best results.
Pop out the carvings and pop inside a tea light, replacing the top. (Spooky!)
Cobwebs
If your home has these already, great! If it doesn't, then abandon the room for a couple of months and make sure there is a steady supply of flies. Alternatively if you can't wait that long, fake cobwebs are ideal for recreating that spooky vibe. Cover your furniture in some stringy decorations and place a few fake spiders around to give your guests a shock. This is the perfect way to Halloween at home.
Remember: When cleaning up, poke the spiders gently with a long stick. Otherwise you might accidentally make a new eight-legged friend.
Things as scary as spiders:
Snakes
Confined spaces
Zombies
The Dentist
Skeletons
Warm, colourful and comfortable; everything a skeleton is not, but it definitely is an excellent addition to your Halloween at home. Skeletons are easy to draw and models can be positioned for a scary or comedic purpose. Their character shines through; whether they are peeking through the window, enjoying a dance, or hidden for a scare. Skeletons are a timeless Halloween decoration, perfect for bringing the style of the graveyard into your home.
Facts about your skeleton:
The longest bone is the femur in your leg. It is stronger than concrete and about as strong as granite. Ounce for ounce, bone is stronger than steel.
Every bone is broken down and remade, just like skin. You replace all your bones every seven years.
Almost half the total bones of your skeleton are found in just your hands and feet.
You are born with over 300 bones which are then grown together. The adult body has 206 bones. (However some people have more than others)
Natural Wood Home Furniture
Embrace the benefits of natural wood with our sustainably sourced home furniture collection. No.10 Furniture is the primary distributor of furniture which blends superbly with classic Halloween décor. Items for every room of the home, our furniture is hand-crafted by experts, using a clear lacquered finish which display the natural imperfection of the wood. Every piece is unique to its owner, providing a gorgeous look and feel. Durable and timeless, our collection will impress guests this Halloween and in future Halloween's to come.
We recommend the Meribel collection, a rustic oak design with exquisite carpentry details and burnished metal accents for a sense of class. It includes:
Meribel Tables – Unique design with large wood top and rounded metal legs. The dark burnished metal combines with the rustic oak to provide an impressive spooky look and feel. Available as a coffee table, extending dining table and lamp table
Meribel Chairs – Sturdy folded metal legs, dark felt upholstery and cushioned seat for a comfortable aesthetic which is subtly gothic. Available as a chair or stool.
Meribel Tv Unit – An elegant living room piece which benefits form the natural rings and knots of the wood. It is perfect for sitting alongside our matching furniture or as a standalone piece. Resistant to scratch and stains, the tv unit has smooth burnished metal handles on the cabinet doors
Meribel Storage – A wide range of storage options are available including shelving units, sideboards, bedside cabinets, chest of drawers wardrobes and ottomans. Storage suitable for any and all rooms, the Meribel collection is a long-term solution of high quality construction.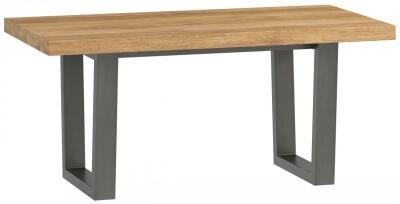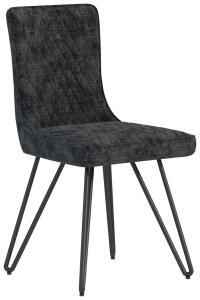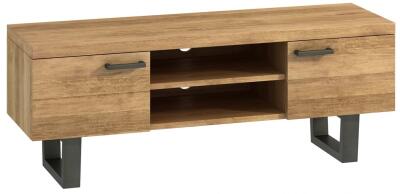 No.10 Furniture offer a free premium delivery service direct to your door. The products are wrapped in protective recyclable packaging. Delivery available to everywhere in the UK. I has never been easier to create a home ready for Halloween.
Purchase at checkout or call us on 01480 278550 for expert advice on all products and more Halloween at home ideas.